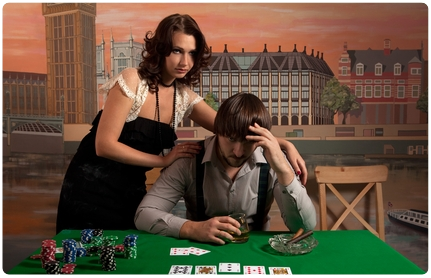 First of all, let's clear the air a bit by stating that the following guide does not refer to poker players with a severe gambling addiction. In essence, the article is addressed to professional and amateur poker enthusiasts who intend to maintain this game among their hobbies without neglecting their families and friends. It is entirely true that poker will take up quite a bit of your time, especially if you are a pro or you are planning to join the ranks of world famous professional players. However, with the following tips, you should be able to balance relationship with your significant other and still dedicate enough of your time and energy to the game. Let's elaborate.
1. Your negative emotions should not leave the table
It's normal to feel upset when you lost a substantial amount of cash in a game, but you have to remember that it's nobody's fault but your own. As of such, you cannot blame your spouse for the bad luck or your misplayed hands. To put it simply, if you allow the stress and irritation accumulated during the session affect your relationship, you will end up hurting the person you love. Therefore, take a moment to unwind and chill before heading home to make sure that you don't randomly snap at your life partner or kids.
2. Your financial gains and losses should not be a secret
Gambling is never a sure thing, but you should dissociate between the sums of cash you can lose and the ones you can't. Moreover, since the losses would affect your family's financial security as well, you cannot go behind their backs. Instead, you should work out a "business plan" with your spouse and establish a clear gambling budget that does not affect your finances.
3. Don't double book your schedule
Make sure that the poker events and the family events don't overlap on the same day. Even if you think that you have enough time to finish your poker session before the time when you're supposed to have dinner with your wife, you can never know how much the game will last.
4. Keep in touch when you go on tour
During poker tournaments and satellites that span over the course of weeks and even months you will probably not get a chance to see your partner. However, it is mandatory to keep the lines of communication open, especially nowadays when the potential of tablets and smartphones allows you to. No matter if your spouse agrees to let you go on tour and bring home the big prize, they are still worried about you.