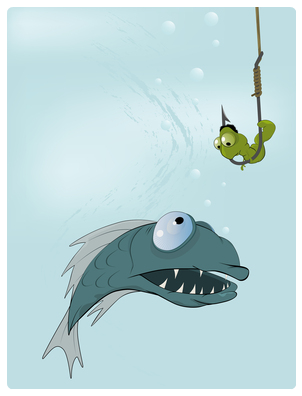 Poker is somewhere like fishing where you can sit with your hook tantalizing, waiting for the bait to do its work. Alternatively, poker is a game, which not only requires luck and fortune but an uncanny ability to deceive, a keen understanding of the game, self-discipline, strategy, and mathematical ability. When you sit at the poker table, you decide that the other men sitting around are like fishes, waiting to grab the bait that you throw. Only in this case, they are hooked and hand you all their money.
However, remember that the others on the table might be thinking the same way considering you a fish and therefore waiting for you to commit an error. Here are some points, which decide whether you are actually the fish or the one fishing:
It is important to know when things are not going your way and it is time to leave the table. Despite a player's skill and strategy, there are times, when the table or the game goes against him. Instead of hanging on in the hope of things getting better, it is better to move away from the table. A player who stays around shows his lack of ability to judge the situation.
As mentioned, poker is a game, which requires self-discipline and strategy. However, if you lose focus easily, you are up for trouble. Quality play is important in poker and typically, a player reaches this limit after nearly five to six hours of play, though for some players even this is too lengthy. Signs of losing focus mean playing bad hands, improper betting strategy, and an indifferent attitude. You should be able to determine your ability to play qualitatively. Once you lose focus, there is no point sitting at the table. 
Mathematical ability with the knowledge of odds is important in poker. No one is asking you to guess the probability of getting aces dealt but at least you should know the odds of getting a specific hand. Skillful players are aware of the odds, which tell them when to make a set or flop a flush, depending on the cards dealt. The knowledge of the odds helps you in determining whether it is okay to stay until the end or not.
Poker not only involves deception but intimidation as well. If you are able to intimidate others, then things can go your way as your opponent buckles under pressure and surrenders a good hand. However, if you fold in some good hands under intimidation, then you are heading towards trouble. You should play in a controlled yet aggressive manner and not show your fear if there is any. 
Risk is an inherent feature of all forms of gambling and we actually gamble because of it. The lure to gamble despite the risk is too high. Many games at the casino require one to have a basic knowledge of the game and luck on his side to win. Poker on the other hand is a game, which is not for the faint-hearted, as it requires discipline, strategy, uncanny ability to judge the situation and the odds. Winning a game at poker is decided by your ability to play your opponent's cards and not your own. Although you might never be in the World Poker Tour headlines or be a WSOP champion, a better understanding, practice, and experience at the game can make you win many pots.