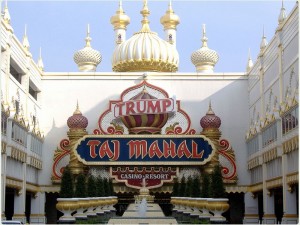 "Rounders" (1998) is, in the minds of most poker players, the best poker movie ever made. The head-to-head matches between Mike McDermott (Matt Damon) and Russian no-goodnik Teddy KGB (John Malkovich) are legendary. The ups and downs of the main character (Damon) as well as those of his buddy Lester "Worm" Murphy (Edward Norton) give an accurate picture of what it's like to be on the hamster wheel of a gambling addiction.
For me, however, the allure of the movie is the scene that was filmed in the real atmosphere of one of my favorite places – the Poker Room at the Taj Mahal in Atlantic City, New Jersey. I get a warm fuzzy feeling knowing that I have sat at the same table where Knish (John Turturro) nursed his drink and passed hand after hand in that movie.
Choosing the Taj Poker Room for a scene in that movie was genius. The sleazy types that the movie is portraying are permanent fixtures at the Taj on a daily basis. That just makes the room all the more attractive.
Full of locals from as far away as Philly and NYC, the room has a definite low ball atmosphere. The daily crowd gets there around noon when the majority of dealers come in. Whether it's the crowd or the dealers that dictate the beginning of the action, I have no idea but trying to find a table before then is nearly impossible. The few that are open and functioning are generally left over from the night before and if those patrons haven't gone already they certainly aren't going now.
They have at least 3 or 4 low limit Hold 'em tables ($2/$4) in operation at all times and a bunch of no limit cash tables that get most of the action. There are small tournaments daily and a few larger ones on weekends that rarely fill more than 5 or 6 tables. The poker cashier is right in the room and they have an electronic board for those waiting for a seat.
This is really poker as it should be. As long as you aren't particular about a fist full of grimy $1 poker chips or a waitress who is more intent on chewing her gum than taking your drink order, the Taj Poker Room is an experience you need to have. Just remember, that if it's dark outside, think twice before taking a mid-night stroll down the Boardwalk. It's not the safest place in New Jersey.
News: On November 25, 2014, the Trump Taj Mahal announced plans to close and cease casino and hotel operations on the 12th of December. On the 5th of December they pushed back the date to the 20th. On December 18, 2014 the Trump Taj Mahal received an agreement with its union to drop its appeal against the company to save the casino.