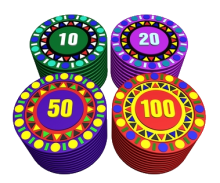 If you were to take a closer look at the design of a land-based casino, you will notice that it has no windows or panes. The reason for this is to obstruct the natural light, in order to prevent the patrons of the establishment from realizing the time of the day, or in most cases, the time of the night. The "frozen" time illusion is also helped by the absence of clocks, so if you want to be conscientious about the duration of your stay, you should probably wear a wristwatch. However, this is only one of the methods utilized by casinos in meddling with the gamblers' perception, the other one being the chips.
What are betting chips?
Chips and value tokens were utilized from the earliest days of casinos. In essence, players are required to transform their legal tender into the casino's proprietary chips before they are allowed to place bets. Every casino has personalized chips that display the value, the location and the logo of the establishment. The denomination of the token is typically embossed on it or inscribed on the face, but the color codes can also represent a way to determine whether it is worth $1, $5, $10, $25, $50, $100, and etc.
The official explanation
Evidently, if you were to ask a casino employee why you need to use chips rather than cash, then he would probably tell you that chips are a lot more convenient. In other words, you don't have to bother with breaking larger bills, stacking up lower bills and change, etc. At the same time, the color codes permit you, the dealer and the other players to estimate the value of the stacks rapidly, rather than having to count your money every time. Furthermore, it permits players to establish a certain gambling budget and stick with it. Overall, chips eliminate a lot of hassle and potential irregularities, allowing to player to focus on the game, that's a given.
The other side of the story
What no casino owner will tell you is that the primary reason for utilizing this legal tender substitute resides in their ability to determine gamblers to place larger bets without the associated guilt. To put it simply, when a person gambles with actual currency, he is more reluctant to taking risks. On the other hand, in spite of the fact that the chips have the same actual value, they are not perceived as real money. In essence, chips are viewed in a similar manner to Monopoly money and you don't really have a difficult time making risky decisions in that game, do you?


Byline
If you want to experience the same excitement at home purchasing the right equipment is a fundamental step to host a great poker game or tournament and play with your friends and family. Always look for the best poker tables and poker chips and enjoy the game.