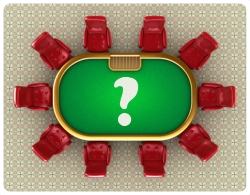 Over the past 5 years or so, the popularity of online gambling has exploded. Since there are more and more people flocking to the Internet on a daily basis to download poker and other casino games, it's no surprise that a new online casino pops up every few days. While having a selection to choose from is great, you have to be careful with some of the lesser-known casinos. Many of them are straight up scams, and some others are borderline scams because of their payout percentages. Below you'll find some things to look for when choosing an online poker room.
Company Reputation
The reputation of the casino or company that owns the casino is very important. There are several ways to find out if the company is a good one or not. First of all, you need to find out who owns the poker room you're looking at. To do this, you can usually just scroll to the bottom of the page and see where it says "copyright ______ inc" and then a date. It may also say something like "a subsidiary of _____". Then, Google the name of the company and do some brief research. If the company has a shady past, you can quite easily find out by doing some quick Internet research.
Popularity of Casino
While some people prefer smaller online casinos, it's important to choose a poker room that has enough players. It can be very boring and frustrating to have to wait for a game to start because there are not enough players. A lot of people enjoy playing poker late at night, and that's usually not possible with smaller casinos.
Bonuses Offered
Almost every online poker room and online casino offers some sort of bonus. Usually there will be a sign-up bonus, and/or a match bonus on your first deposit. Take a close look at these bonuses, and at the terms of the bonuses. Don't fall for ridiculous stuff like 90% match bonuses – most of the time there are so many catches and complicated terms that the bonus simply isn't worth the trouble. Look for reasonable but generous bonuses, and be sure to read over the terms and conditions before signing up.
Game/Table Selection
Some of the largest and reliable online poker rooms have hundreds of games to choose from, including tons of online poker tables. Most poker sites have at least a few games of Texas Holdem going at once, and hopefully some other games too. Variety is always good, so look for a casino that has a good selection, and ideally, one that has several poker tables running at all times.