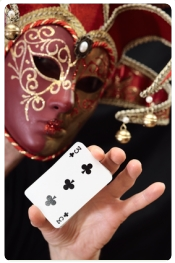 Let me start by saying that the number one rule of bluffing at poker is to avoid doing it with every hand. Since the function of the bluff is to disguise your behavior, it is not recommendable that you bluff just for the sake of bluffing. If you will fake it with each hand, you will not only manage to annoy the other players, but you will also lose a lot of money at a very fast pace. In order to decide about the best moment to start pretending, take a look at what is on the table and at the cards that you are holding in your hands.
At the same time, before actually bluffing, consider the cards of your opponents. For instance, if there are three cards from the same suit on the table, then it is very likely that your opponents will try to get an open ended flush as well. In case the highest card you hold in your hand is not a figurine, then there are actually extremely few chances that the flush will get you a winning hand. On the other hand, if the cards on the table are completely different and the other players seem confused, then the odds can be in your favor.
If you want your bluff to work and go unnoticed, then you should play consistently. The consistency in a poker game means that you should never be too happy or too sad. In addition, if you are aware of an automatic behavior that you cannot really control, then introduce it each time you look at your cards or when you are betting. This way you can be sure that the others will not have a so called "tell" to help them identify the possible cards you hold in your hands.
If you do not want the other to know that you are bluffing, then you must keep your cards to yourself. Even though the rules are different from house to house, in general you are allowed to choose whether you want to show your cards or not after the round is complete. Basically, the idea of a bluff is that you convinced the others that you have such a good hand that they all folded their cards. Consequentially, you must do anything in your power to avoid being called out, as then you will be forced to show your cards and the others will know that you were bluffing and change their gaming strategies.
However, if you get caught, have a story ready in which you try to mask that you were actually bluffing. For instance, if you do not have anything but a few random cards from the same suit, you can tell the other players that you were actually going for an open ended straight and you made a mistake. As you can see, you will need to come up with something credible based on the cards in your hand and the ones on the table. These are the basic things you should know about bluffing but just remember, you will need a bit of practice before you can master this ultimate trick in poker.