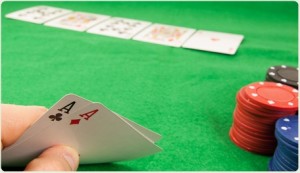 For many poker fans the ultimate game to master is Texas Hold'em. Famed for its simplicity and fast, entertaining gameplay, Texas has risen to become by far the most popular version of poker since the turn of the 21st Century.
The reason so many players enjoy Texas is two-fold. The first is television, which now broadcasts live poker tournaments from some of the biggest and most famous casinos in the world. The second is through online gaming, at sites such as 888, Betfair, or William Hill.
The World Series of Poker has seen participants in its main Texas event skyrocket from 839 players in 2003 to over 2,500 a year later and now upwards of seven thousand join the big table for this $10,000 buy-in game.
The Jackpot for WSOP Main Event now stands at a cool $8.7 million and that is only going to increase in the coming years.
What television has done is reveal the world of poker to an audience who would otherwise never had accessed it and this is where the second branch of its popularity drives comes in.
Online poker has rapidly grown in the past decade from an arcade game to an occupation, with many of the world's pros starting their poker lives on the computer screen.
Having seen Phil Ivey, Chris Ferguson and recently Greg Merson and Ryan Riess dominate the WSOP stage, gamers want a piece of the action and many play in the Betfair Casino where they can learn the game and work their way up the poker ladder.
It isn'isn't simply the potential jackpots from playing online poker that makes Texas so popular. The speed of which you play online means you're never left waiting for others to move and games can come quick and fast.
Of course, the further you get at mastering Texas the more focussed your opponents become and to win a major online tournament takes time and courage.
But that in itself is all part of the fun of Texas. If you're to win tournaments you require the skill to read other players' bluffs – even online – and quickly work out the chances of hitting a strong hand yourself.
In turn, you will learn to bluff yourself as you move up the ladder and begin bullying less scrupulous opponents.
That confidence to take the pot is what makes the TV pros superstars in the poker world and is why Texas has become so popular with fans over the past decade. Texas is about being brave and smart, a combination you can see on TV and practise online.