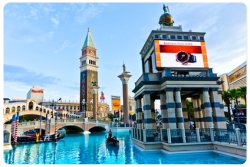 The Venetian venue is definitely on the best gambling establishments in the city of Las Vegas and that is not only due to its immense space, which exceeds 11,000 sq. ft. or the number of tables, out of which 39 are designated exclusively for different variants of poker. Without denying the fact that these two factors play an important role in the quality of the hotel and casino facility, it is also necessary to mention the effects of the extraordinary décor furnished with elegant tones of brown and gold, as well as the efficient and amiable members of the staff. But, after all, you didn't come to a casino to admire the furnishings and make friends. Let's find out what the Venetian has installed for passionate gamblers.
The daily poker tournaments of the Venetian
Gamblers can take part in numerous cash games of Poker at the Venetian venue, but the real star event of this casino is the daily tournament that takes place every noon. This tournament constitutes such a grand attraction because, unlike most gambling parlors in the city, which are typically unable to attract enough attendants to fill up 5 tables, the Venetian manages to gather between 120 and 180 customers every day. In addition to the superb attendance, a mere $120 entry fee enables gamblers a chance to compete in Poker games like Omaha, Limit/No Limit Texas Hold'em, etc. first prize that has a $9,000 value.
The Deep Stack Extravaganza tournament of the Venetian
This tournament takes place 4 times per year and it constitutes an excellent chance for poker experts to hone their skills for the WSP. The Deep Stack Extravaganza also has a wide variety of poker games, but the entry fees are substantially more expensive. For instance, a spot on the low-end satellites you will cost you approximately $200, while in order to buy your way to the main event you will need around $5,000. However, in spite of the spicier fees, the DSE also has an excellent attendance and, more importantly, a large segment of the players comprises of WSP experts.
Additional factors that contribute to the Venetian's success
As mentioned, the impressive settings and the helpful staff as well as the well established clientele are among the reasons for the Venetian's popularity. However, you also need to consider the fact that it seems like the management thought of everything. Not only do gamblers have quick access to complimentary beverages/snacks and can order food for their prolonged gaming sessions, but they can also get a back pain alleviating massage right at their table for a modest charge. In essence, the Venetian takes care of every aspect so you can focus exclusively on winning the game at hand.